poniedziałek, 27 sierpnia 2018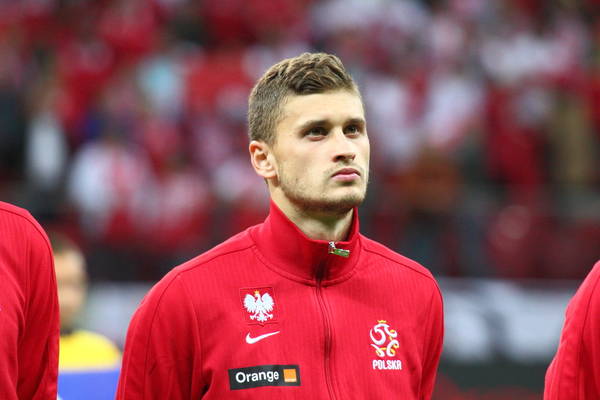 On Monday, new Polish head coach Jerzy Brzeczek will make his first national team selections since being named the replacement for Adam Nawalka following a disappointing world cup. Brzeczek has promised, the team needs some changes but has ruled out a total re-build. The big test for Brzeczek will be who he will select, and more importantly, who he won't select.
In interviews after being named the head coach, he has made it know he feels it's important the players who play for the national team are getting playing time at the club level. Several key players from Nawalka's era such as Kamil Grosicki and Brzeczek's nephew Jakub Blaszczykowski have not played since returning from the world cup. They're not the only ones. Central defender Jan Bednarek hasn't dressed yet in three matches for Southampton and Euro 2016 hero Michal Pazdan hasn't played much for Legia Warsaw, and his coach saying the reason is because Pazdan isn't yet fit from the world cup.
Brzeczek may have the perfect excuse for calling some of these players despite what he has said after being appointed as coach. All he has to say is the seasons are just starting and everyone has a free slate.
Whatever he decides, the truth of the matter is that while Poland doesn't need a total rebuild, but they do need changes. He also won't have Lukasz Piszczek at his disposition as the Borussia Dortmund star announced his retirement from national team football shortly after returning from the world cup. Poland has strength at several positions, but in others, there is a sort of a epidemic. Who will play on the wings? Who will play next to Kamil Glik at central defense? And who will play at left back?
At left back, the obvious option is Arkasiusz Reca, who has a very similar story to Piszczek. A forward turned midfielder turned left back - by Brzeczek of all people during their time with Wisla Plock. Reca this summer moved from the Polish ekstraklasa to Seria A Atalanta but he has yet to play for the club this season. Other options could include Maciej Rybus, who was used in that role by Nawalka but wasn't too successful. He could turn back to Artur Jedrzejczyk, who at 30 years old, is only a band-aid fix, but could give the new coach just enough time before someone else steps up for the role. Pawel Jaroszynski gets regular time in the Seria A with Verona, but at 24 years old still seems to have a lot to work on. He might not be ready for the role. Lastly, he could use Bartosz Bereszynski on the left and find someone else to play right back - namely Tomasz Kedziora or Alan Czerwinski. Kedziora has been a mainstay with Dynamo Kiev while Czerwinski has been a stud in the ekstraklasa with Zaglebie Lubin. So far this season, Czerwinski has been one of the leagues best defenders though six weeks.
On the wings, I think Brzeczek will try to make it as little messy as possible. Therefore i think he will call-up Grosicki and Kuba to the team, but Leeds United star Mateusz Klich i think makes his return to the national team after four years. I also think Klich will be starting when Poland kicks off against Italy in two weeks. Przemyslaw Frankowski, who just missed out on a spot on the world cup team, i think will return. He's looked very strong this season for Jagiellonia, and is linked with several clubs this summer. With the transfer window nearing a close, a move to Turkey is still very realistic for the 23 year old winger. Damian Kadzior and Rafal Kurzawa, two Gornik stars from a year ago, i also think will be named to the national team. Both are just starting up with new teams and Kurzawa has yet to start but has appeared for Amiens in Ligue 1 as a sub. One position the team is heavy on is striker, and Brzeczek will be able to use one of his strikers in a winger role, possibly Sampdoria's Dawid Kownacki.
If the coach decides to call-up Grosicki and Kuba in midfield, he would have no other option but to callup Bednarek. And if he calls him up, it would only make sense to start him with Glik right away. Bednarek-Glik duo will give Poland the best chance to win, atleast until Pazdan is ready and back in his euro 2016 form, and that is if he ever gets back to that form again.
niedziela, 26 sierpnia 2018
My favorite league in the world started up again this past weekend, the German bundesliga. While my favorite European club has always been Manchester United, going all the way back to the days of Eric Cantona, my favorite league has always come from Germany. For one, while I was growing up in Poland, the league was much more accessible. For two, most Polish players dreamed of making it "big" and by big it meant transferring to the German bundesliga, so the league was littered with Polish players that helped me keep my interest.
The league is usually one to be reckon with, among the best in the world. Lately, it's dropped off a bit and that has some Germans feeling worried that the league is still falling. Bayern Munich for the most part stayed quiet this summer from any moves, only officially signing Leon Goretzka and also bringing back from loan Serge Gnabry. Despite their inactivity, the club is still a clear favorite to run away with the bundesliga which some are predicting it'll be another season where Bayern win by 10-15 points.
Fighting for the second spot, however, is what will make this 2018/19 bundesliga so exciting. Schalke 04 lost it's opening match to VfL Wolfsburg 2-1. They finished second last season, but this season will also have to manage to compete in the champions league along with league play. Borussia Dortmund made many moves and appear to be the favorites to finish behind Bayern Munich this season. RB Leipzig also made several changes, including new manager Ralf Rangnick, also have inspirations to finish on the podium and should be contenders for the second spot. Bayer Leverkusen seem loaded. They were able to keep their team intact for another season and make a serious run at Bayern. Other clubs such as Werder Bremen and Hoffenheim are also seem as threats to fight for a top-4 spot.
The team not many are talking about, last seasons 9th place finisher, Borussia Mönchengladbach is a serious contender to finish in the top 4, too. And they proved it on the first Saturday of the season, beating Bayer Leverkusen 2-0. Bayer Leverkusen had chances, it was expected. Their front four is Lucas Alario, Leon Bailey, Julian Brandt and Kevin Volland. That foursome will cause havoc on defenses on a weekly basis.
But, Borussia M'Gladbach was brilliant. They defended well and when the defense allowed a break through for Bayer's attack, one of the most reliable keepers in the league Yonn Sommer was there to save the day. Winning 2-0 over Bayer is impressive enough, but it couldv'e been worse. Thorgan Hazard missed a penalty kick late in the first half which wouldv'e given his side the lead. Borussia M'Gladbach made it count by scoring twice in a three minute span early in the second half, first by Jonas Hofmann and then by American Fabian Johnson. His give-n-go goal with Raffael may be the best goal of the first week. Hofmann was one a high rated prospect as a teenager who hasn't fulfilled his potential. He just turned 26 and maybe this is the year he makes that next step in his career? Some players just take longer then others. Last season he was kept scoreless in 22 games. He actually has several opportunities to score today but wasn't able to capitalize.
Dieter Hecking put 18-year old Louis Beyer from the first minute on left back and the youth product didn't disappoint. He was one of the best players in the game, not only stopping attacks down his wing, but also going forward attacking with confidence.
But what was most impressive about the 2-0 dominating win for Mönchengladbach was just how many impact players Hecking still had on his bench when the game began. Midfielders Denis Zakaria and Mickael Cuisance, centreback Nico Elvedi, playmaker Ibrahima Traore and big summer signing from Lyon, striker Alassane Plea.
It's only the first match, but this is a team i would keep my eyes out. They have a good mixture of veterans and youth, and Hecking's side should be one of the most entertaining sides this season on a weekly basis. Enough talent on that team to keep everyone fresh and keep practices intense. Next weekend they play away at FC Augsburg.
Hecking has depth. Hecking has star power. He has the resources to give his defense extra reinforcements if needed, but also has the ability to switch things up and give his attack some much needed fire power. Raffael and Hazard are already two of the leagues top offensive players, and if Plea can be what the club thought he could do when they signed him, this team could really be scary.
sobota, 18 sierpnia 2018
Football is the greatest never ending story book. Each season and each week, theres new stories to "wow" the fans all over the world. The latest one, is the one of the unlikeliest of success stories. It's about manager Paco Lopez at La Liga's Levante UD.
Last season, after being promoted to La Liga for just the second time in club history, Levante UD was one of the best bets for relegation, a one-and-done. As the season progressed, it appeared that was the case and the small club from Valencia was destined to return to the second division of Spanish football.
On March 4th, 2018, the club announced it had fired Juan Muniz and replaced him with their youth coach, Paco Lopez. Most likely, the theory at the coaching change was just being honest with reality. Why hold onto a coach who won't be there after the club is relegated, and bringing up a coach who is familiar with the club and it's youth could only benefit them for possible a return back to La Liga after they're dropped.
But that wasn't in the plans. Lopez's Levante won it's first match against Getafe 1-0, and later beat the unbeaten FC Barcelona 5-4. This team was rolling. They finished the 2017/18 season winning 8 of their last 11 and scoring 24 goals in that span. They had only scored 20 goals in their previous 27 games before Lopez showed up. Levante ended up finishing the season in 15th place.
On Friday, the 2018/19 La Liga season kicked off and on the first night, Paco Lopez's Levante shocked the world against, not only beating the favorites Real Betis but beating them handily 3-0. The win improves Lopez's record as manager to 9-1-2. A true coaching tactical masterclass.
They will surely cool off eventually, but until they do, we must enjoy the show.
It's been one heck of a week for Andreas Pereira. Last Friday, the 22 year old Pereira made his first career start for Manchester United in a 2-1 win over Leicester City. Today, he was named for the first time to the Brazilian national team for a pair of September friendlies.
Pereira's has always been a highly touted prospect, but the road between his second place finish at the 2015 U-20 World Cup with Brazil, a final in which Pereira scored Brazil's lone goal vs. Serbia, to this week hasn't been the smoothest of rides. The past two seasons, Pereria spend on loan in Spain's La Liga. In 2016/17 he was with Granada and last season spend time with Valencia. Even Pereira admitted in a interview that the loans were benefaction because he needed to be a more mature footballer and learn how to prepare for games as a professional. Afterall, this is his job, now.
With Granada, a team that would of just been happy not to be relegated, Pereira was given the green light and allowed to roam around offensively without any consequences of defensive lapses. He took advantage and showed what type of offensive ceiling he has, scoring 5 goals and 3 assists. Last season, in just 12 games with Valencia, Pereira scored 1 goal and added 3 assists. He also rounded out his game and became a true footballer that can be relied on.
All throughout pre-season, rumors surrounded Pereira about a possible move away from Manchester United. After a successful pre-season, and some player from the World Cup still not in 100% form, Pereira not only got time in Manchester United's first game but also was given the start and played the full-90.
Pereira has always been blessed with dribbling skills. The past two seasons in Spain he has shown a lot of improvement in his passing and finishing, having scored highlight reel goals and making assists, setting up tempo and creating plays. Despite his notable dribbling skills throughout his young career, one aspect of his game that has always been a red mark has been his poor passing. Against Leicester City, Pereira finished with a team best 91% passing accuracy.
In a summer where it seems manager Jose Mourinho didn't get everyone he wanted, it seems that the club is getting a player as if they had just signed someone for €60 million. Pereira seems to have the perfect pace and aggressiveness to play right alongside Fred and Paul Pogba in Manchester United's midfield. And he has shown from his U-20 World Cup and from his days in La Liga that he also has the offensive skills to be a threat when attacking. As long as his passing % remains high, it will be tough for Mourinho to take him out of that lineup.
And like noone expected, Manchester United has a secret weapon.
wtorek, 14 sierpnia 2018
Officially, the best drama in sport, the English Premier league, kicked off its 2018/19 season on Friday at Old Trafford with Manchester United beating Leicester City 2-1. That was followed by a full slate of games on Saturday, which included a win by Tottenham over Newcastle United, a impressive debut win for new Chelsea manager Maurizio Sarri, 3-0 over Huddersfield, and a action packed match between the promoted Wolves and Everton, which ended in a two-all draw.
Fans had a lot to cheer about as the worlds most popular league was open for business. However, fans around the league got a real dose of reality on Sunday when Liverpool and Manchester City hit the pitch.
Jurgen Klopp's "reds" smashed West Ham United, a team that is expected to make a big improvement from last season under new manager Manuel Pellegrini, 4-0. West Ham showed no signs on Sunday of the team they thought they would be. Liverpool did whatever it pleased to do against the Hammers defense. Liverpool paid a hefty price to land Naby Keita from RB Leipzig, paying €73 million and waiting a additional year before being able to call him one of their own. The wait was worth it, and its only a game, but this has the look of a bargain buy. Mohamed Salah continued where he left off, scoring his first of the season just 19 minutes in.
Sadio Mane continued his great play too, scoring twice. Last seasons European cup runners up look even stronger. With much added depth and massive improvement where they needed it most, in goal, with Alisson coming over from Roma for a record fee of €72.5 million, replacing the goat of the Champions League final, Loris Karius, as the clubs #1 keeper. The wealth goes deep for Liverpool, even Daniel Sturridge coming in the 88th minute and scoring just a minute later and big summer signing Xherdan Shaqiri only seeing several minutes off the bench. Liverpool were one of the quickest teams of the first weekend, and also one of the teams which covered the most ground. Classic Klopp football. As long as Roberto Firmino, Mane, Salah and Keita stay healthy, this team can make a serious run at the league title and the European cup.
Just after the impressive Liverpool rout, Manchester City faced against Arsenal in London, and the debut of Gunners' new manager Unai Emery. Even with mega star players Kevin De Bruyne, Leroy Sane and Gabriel Jesus on the bench, Pep Guardiola's team had no problems. The final scoreline of 2-0 didn't seem like it did justice. City controlled this match from the opening kick til the very last whistle.
At times, the passing, the creativity and the speed in which Manchester City played with caused Arsenal to look confused and make silly mistakes. Petr Cech bailed out the Arsenal defense several times, including a breakaway attempt by Kun Aguero that was caused by a rattled Matteo Guendouzi. As impressive as Manchester City's attack was, and it was impressive- 17 goal attempts, 8 shots on target, 10 corner kicks (to Arsenal's 2) and a 58% possession, the defense was just as superior, led by centerbacks Aymeric Laporte and John Stones, and a very strong showing by Ilkay Gundogan, who looks like he's back to his pre-injury form, when he was a dominant player for Borussia Dortmund. City's defense suffocated Arsenal's attack. And most importantly, made their two star players Henrikh Mkhitaryan and Mesut Ozil seem useless.
It's only one game into the new season, but the lines were drawn. Liverpool and Manchester City appear to be the league's cream of the crop while everyone else fights for third.
And for now, all we can do is just patiently wait until October 7th, for the first meeting between Liverpool and Manchester City of the season, at Anfield.